Rajab Suleiman & Grand Orchestre Taarab de Zanzibar:
At Jerusalem Sacred Music Festival
16-10-2015
Last month Rajab Suleiman & Grand Orchestre Taarab de Zanzibar performed at Jerusalem Sacred Music Festival. Here is a video of Makame Faki performing "Salaam Aleikum", 'a message of peace.'
Jagwa Music: Summer Concerts in Scandinavia, Portugal and Spain
06-06-2014
Jagwa Music will play a string of Spanish festivals in mid-July courtesy of Casa Africa, dates include Pirineos Sur, La Mar de Musica, Etnosur and Mumes. Gigs in Portugal include Music Box in Lisbon, FMM and Milhoes Festival. Jagwa will also play at the Copenhagen and Arhus Jazz Festival (Denmark) and Urkult in the North of Sweden.
More details ››
Kazimoto: Dar es Salaam Street Vibe meets International Electronica
01-06-2014
International critics have called Jagwa Music's Dar street vibe variously as "hand-made techno" or "African nu-rave". During one of the group's stays in Berlin they had a chance meeting with German electronic artists Andi and Hannes Teichmann: the brothers attended a club show by Jagwa and the following day met for some jamming at the Gebrüder Teichmann's studio. Now in February Andi and Hannes had their initiation into the real mchiriku attending some of the group's street performances and rehearsing for a joint project that brings together Jagwa's lead vocalist Jackie Kazimoto, Casio wizard Shukuru Ponza, percussion maestro TP, with the drum and bass duo of Tony Karama and Abdallah Ng'onda. After their initial performance in February at Zanzibar's Sauti za Busara Festival—kind of drowned in torrential rains, yet still showing lots of promise—Kazimoto will take the heat to Lisboa Mistura Festival later this month and to TFF Rudolstadt in early July.
More details ››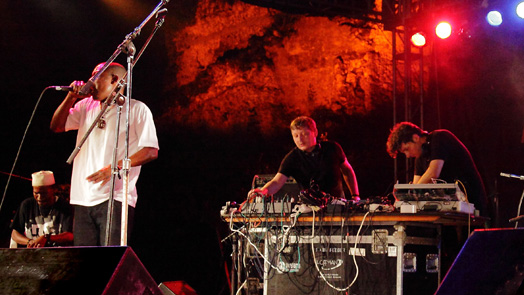 Jagwa Music to Perform at Rain Forest World Music Festival
05-05-2014
In June Jagwa Music will head to the Far East for the first time to perform at
Rain Forest World Music Festival in Kuching, Sarawak. ››
Mambo Moto Moto: Tanzania Country Focus at TFF Rudolstadt
24-04-2014
Jahazi Media's Werner Graebner curates this year's country special at TFF Rudolstadt. "Mambo Moto Moto", hot stuff from Tanzania will feature Black Warriors, Kaya Baikoko, Kazimoto, Safi Theatre, Segere Original (all from Dar es Salaam), Kithara, Tarbiya Islamiyya (Zanzibar) and Ufunuo Muheme Group (from Dodoma).
For more information ››
Jagwa Music to Play Beirut and Beyond Festival
11-11-2013
Just confirmed:
Jagwa Music will play at Beirut and Beyond Festival in Lebanon on December 6.
For more information ››
Kithara CD Release and Autumn Tour
06-11-2013
"Rajab Suleiman and Kithara – Chungu" is the title of the latest release in the Zanzibara series (Colume 8) to be released by
Buda Musique
later this month. The group will be on a short European tour in November/December and play concerts in France and Netherlands.
For dates see ››
Zanzibara Volume 7 : Sikinde vs Ndekule
17-06-2013
"Sikinde vs Ndekule—A Battle of Bands in Dar es Salaam 1984-1987" is the title of the upcoming Volume 7 in the Zanzibara Series (released by
Buda Musique
). A fierce exchange of songs and words ensued when some of Mlimani Park Orchestra's (Sikinde) major musicians went to join the rival International Orchestra Safari Sound (Ndekule) in 1985. It was the golden age of Tanzania's
muziki wa dansi
and the whole nation followed the latest news from these bands as these songs were first performed in the city's dance hall circuit before being recorded for wider distribution by Radio Tanzania …
read more ››


Jagwa Music : Tour Dates Summer 2013
10-06-2013
Noise masters Jagwa Music will take their Dar es Salaam street vibe to summer festival stages throughout Europe in July. Major stops include Fundaçao Gulbenkian (Lisboa,PT), Fusion Festival (Lärz, DE), Copenhagen Jazz Festival (DK), Skankaloss (Gagnef, DE), Paleo Festival (Nyon, CH), Womad (Charlton Park, UK), Sfinks (Boechout, BE), Zomerparkfeest (Venlo, NL). More information
touring ››
Kithara : Autumn Tour
26-03-2013
Kithara – The Stars of Culture Musical Club will tour Europe in autumn. Already confirmed is a show at Institut du Monde Arabe in Paris on November 30, 2013. Young up-and-coming singer Saada Nassor just joined the group, and was also present when the group recorded songs for their upcoming first international CD release earlier this month. A short edit of Saada's song "Chungu" is featured in the sidebar.
touring ››
Jagwa Music – From the Streets of Dar es Salaam …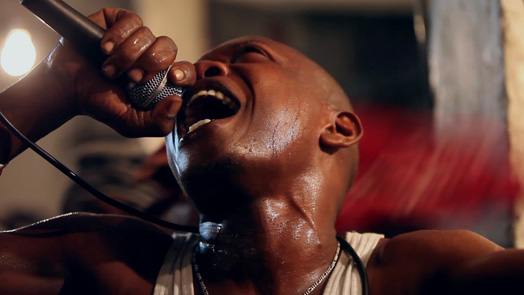 A HARD-HITTING PARTY: JAGWA MUSIC IS COMPLETELY OUT OF CATEGORY
A wildly syncopated rhythm section in sickly exorbitant high-speed interaction with a cheap Casio-keyboard spitting harmonic Esperanto. And a lead singer with the charm of a young Michael Jackson flanked by two absolutely out of hand/unruly dancers, just as dirty/bawdy and funny as acrobatic. Rarely has Cosmopol driven the energy level that high and merry.
[Ralf Christensen, Information, July 4, 2011, p. 15]